To do so go to Clover Orders->Store Settings->Hours Your Store is Available a section there will allow you to change its wording.
By default, the Smart Online Order system displays a message when outside your Clover Business Hours letting your clients know that it's outside your business hours and informing them if you allow orders in advance or not.

You have the ability to change what appears in the message if needed to state a specific message etc...

Access the Smart Online Order Website Plugin Settings
In order to change the message you will first need to access the Smart Online Order website plugin by either logging into your Smart Online Order subdomain or your own website if you have Smart Online Order's website plugin installed on your own website.
Once logged into your website/Smart Online Order subdomain go to the site's dashboard then from the left-hand side menu click on the "Clover Orders" option from the left-hand side menu.

Finding the correct settings page
From the new page that appears there will be a blue menu with various different options relating to the Smart Online Order system.
In this case, you will be clicking on the option "Store Settings"
Changing The Store Closed Message
From there scroll down to the section called "Hours your store is available" which contains an option called "Customize the store closed message."
Whatever you write in that box will replace the store closed message, enter the message that you would like to replace the store closed message.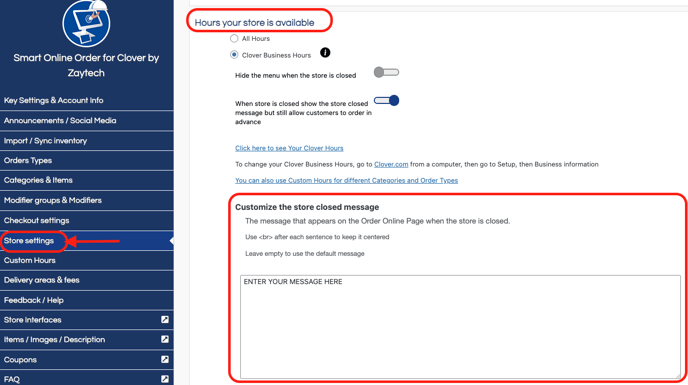 Save your changes
Once you have your settings to your liking you will then need to save the changes from the bottom of the page to finalize your changes.