To do so login to your loyalty dashboard and then access it via the more programs section.
Prerequisites
At the time of writing the loyalty system is included with the purchase of a white-labeled branded app for use in conjunction with the Smart Online Order system and cannot be accessed and or used otherwise.
Disclaimer
When using the first install discount your client will receive the discount immediately upon installing the application and creating an account which may lead to users possibly uninstalling and reinstalling the application to reuse the discount.
It may be best to instead use the After First Order discount which requires users to first submit an order before receiving said discount.
Set up first-time user reward given after the first order made for your White Labeled Branded App.
Access the Settings
You will first need to log in to the Smart Online Order loyalty dashboard, typically the login link and credentials are provided to you through the White Labeled Branded App completion email possibly through a link on the email going to "Smart Online Order Dashboard"
Going to loyalty programs
Once logged in click on loyalty then on the section called "More Programs" that appears underneath loyalty once you click on it.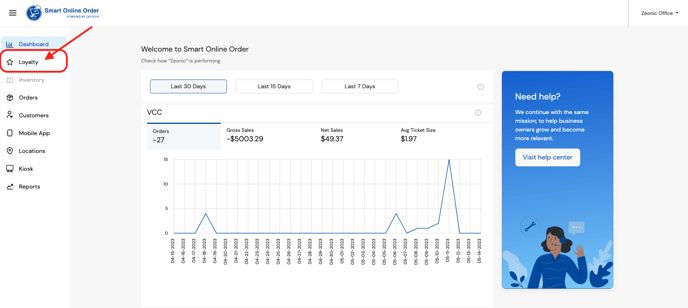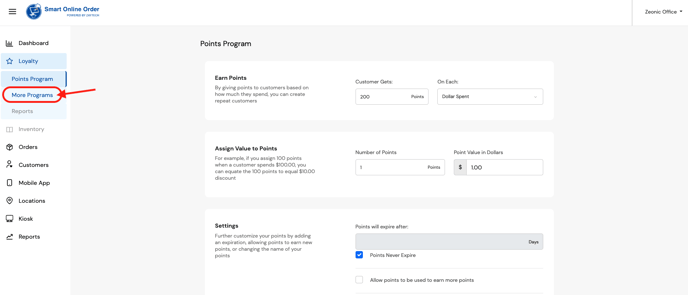 Creating the first Install reward
From the following page click on the "view" option under "App Installs"

It would be best to set the top right option as active now so that once you save it the option will be available for use else you will need to return and manually activate it as necessary.
From here set up your desired discount type of either a points amount given or a discount added to their account and set it up as necessary.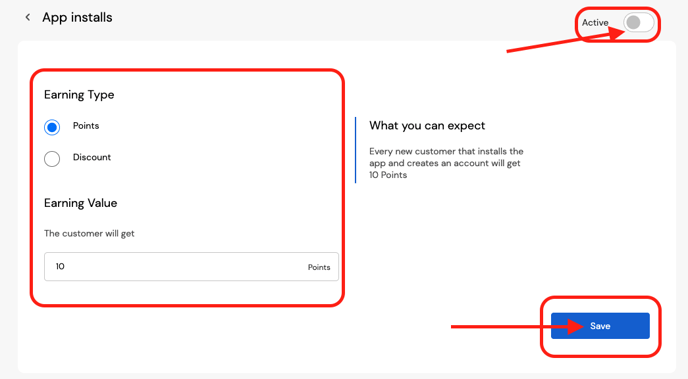 Save your changes
Once you have your settings to your liking you will then need to save the changes from the bottom of the page to finalize your changes.